I have known Yvonne Lu for a long time, so when I came to list my 10 year old Yaletown apartment, I didn't want to use Yvonne, since she was a friend of mine, and I thought it would be awkward to talk to a friend in a business-like way. Within 3 years, I had hired two agents sequentially, and listened to one agent's suggestion to spent $10K to change the floor to hardwood flooring. The property still couldn't be sold. The only price I ever received is an oral offer at $1.2 Million.
I was frustrated. One day, I finally brought Yvonne into my apartment for her opinion. To my surprise, Yvonne told me that she immediately knew what was wrong as she stepped into the room! I then learned that as a realtor, Yvonne not only has loads of experience since she was in real estate business way back in China, but she also has a background of oil painting, so she is sensitive to a space regarding whether it's cold or inviting. I gave Yvonne the task of selling, hoping she can make a difference for me!
I went back to New York after I gave the key to Yvonne. One week later, I received photos from her through email. I was shocked to see those beautiful photos, couldn't believe my eyes that this was my same old apartment! On the first day of Open House, I got an offer at $1,36M. Yvonne then helped me to negotiate the price to $1.428M! I was thrilled! Just for one week, for the same property, I got $228,000 more! ($1,428M -$1.2M) It was indeed a miracle to me! Now I have to say, Yvonne is not only a good friend, but she is also truly a good realtor! I would love to recommend Yvonne to anyone who is thinking of selling! She will be the person you can always trust, and she will fight with you, shoulder by shoulder, for your best interest!
-- Yukie (Actual Testimonial / 看原件)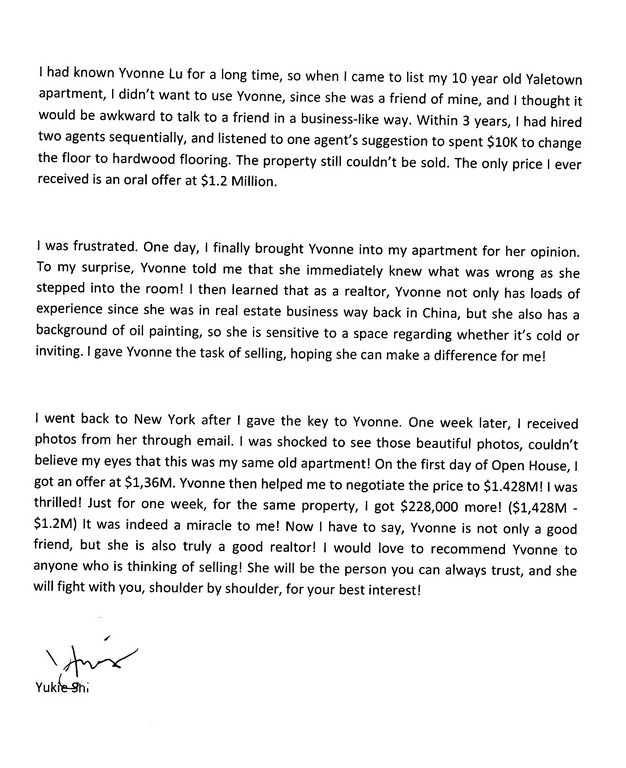 我認識Yvonne已有多年。於2007年,我要賣在溫哥華市中心Yaletown區一所10年公寓的時候,她和我多年的這個交情,恰恰成了我不想找她賣房子的原因:和朋友談生意,涉及討價還價好像很尷尬。於是在兩年內,我找了兩個經紀,掛牌賣了2次,我還聽從其中一個經紀的建議,花了壹萬加幣,從原來淺色的楓木換成了深色的櫻桃木地板,結果都沒賣出。兩年裡,只收到一個120萬口頭的購買意願。
在這兩年裡,房子賣不掉讓我大受挫折。我最終忍不住請Yvonne到我家,想聽聽她的專業意見。她指出房子不夠個性和溫馨,與我想要賣高價位的意願不太相付,導致潛在客戶的購買意願不強。對於她獨特見解,我決定請她賣房子,希望她不會讓我失望。
房子交給Yvonne後,我到了紐約。一星期後,我收到她幫我裝飾佈置過度房子照片,我簡直不相信照片上的漂亮房子就是我的房子(後來才知,她的藝術審美觸角,來源於她曾經的油畫繪畫經驗)。在房子開放日的第一天,我就收到一個$136萬的購房合約。Yvonne幫我談判議價,最後以$142.8萬成交。我實在是太高興了:兩年都沒賣掉的房子,她一星期就賣掉,還多賣 $22.8萬($142.8-$120),真是奇蹟!
經過此事後,我不得不說,Yvonne不僅是我的好朋友,還確實是個不可多得的好經紀。舉賢不避親,假如您要賣房,我就推薦Yvonne!她是一個誠實可信,為您的利益而戰的人。
-- Yukie